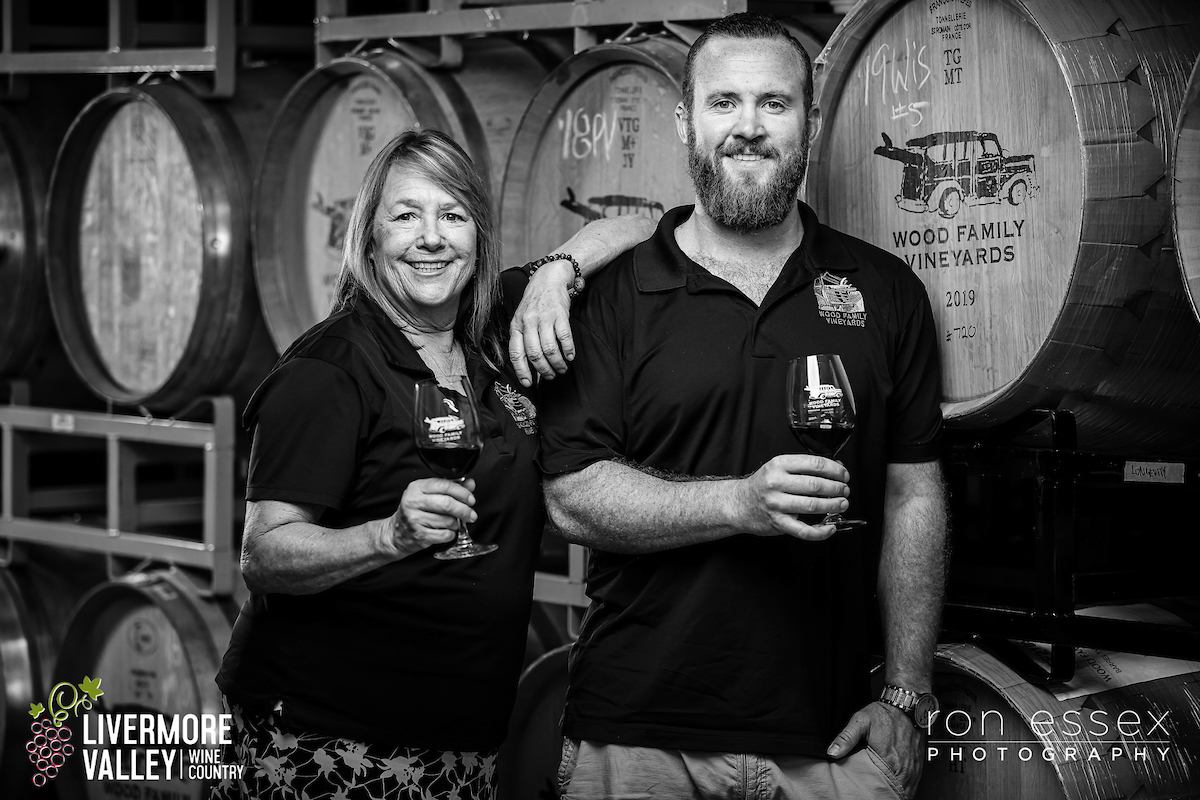 We have Acoustic Music each and every Wednesday from 4-7pm.
On Fridays we have full bands from
5-8pm. Best of all it's FREE to attend!
Come try the amazing, award winning wines made from our Livermore Valley Vineyards!
Come visit us with Pedego, the electric bike tours or hop onto the Wine Trolley for a large group visit!
To Our Valued Club Members, Winery Visitors and overall fans of Wood Family: 
We take the safety of our team, club members and guests very seriously. We are now adhering to the "shelter in place" order that was imposed in our county as of midnight on  3/16/2020 and are therefore temporarily closing the tasting room. However, here are the current special offers from us: 
We will be open for curb-side pickup from our roll-up garage door Wednesdays through Fridays from 2-5pm and on Saturday & Sunday we'll be here form 12 – 5pm for you. All bottles are 10% off & Club Members will receive an extra 5% off on top of their regular discounts. Free delivery to your door for orders of 3 bottles or more as long as you live in the following cities: Livermore, Pleasanton, Dublin, San Ramon or Danville. You can call us to make arrangements or email us at info@woodfamilyvineyards.com and we will call you as soon as possible.  
!!!! "PINK PEARL" Rose of Grenache Release today 4/4/20 – Special pricing  through Easter Sunday – 4/12/20!  30% off a Case for Club Members – 20% off a Case for Non Club Members.  Closed Easter Sunday.  Pair this with your Easter Dinner and enjoy through the Spring. Check out our events section for upcoming virtual events.
We are also offering $1 shipping for 6 or more bottles plus 10% off your order when you order online. Shipping is 1/2 off when you order less than 6 bottles but you still receive 10% off your order when you order online at www.woodfamilyvineyards.com/shop. All discounts will apply automatically.   
We thank you for your ongoing support in these trying times, cheers! #itsallgoodatwood
Meet the team…
Rhonda Wood: Owner & Winemaker
Rhonda has been the winemaker since inception and used to be a pilot prior to this fun endeavor.
Michael Wood: Owner & CFO
Michael continues to pay the bills and his favorite wine is the Chardonnay.
Harrison Wood: Executive Vice President
Harrison is no newcomer to the wine business and loves exploring the world.
Holger Hornisch: General Manager & Cellar Meister
Holger came to us from managing different Trader Joe's stores and he loves his Great Danes and traveling the world as well.
Alec Fraser: Assistant Winemaker
Alec is a graduate from Fresno State where he studied Oenology, he has been working at Wood Family since age 12.
Ben Fish: Cellar Master & Tasting Room Supervisor
Ben has been with WFV for over 4 years and although he is colorblind he makes fantastic pieces of art.
Michelle Flores: Club Manager and Tasting Room Supervisor
Michelle loves wine and also works with her husband Rob who is her high school sweetheart of 35 plus years.
Zach Strout: Tasting Room Manager
Zach recently took on the important role of managing the Tasting Room and is an avid Disc-Golf player.
Rhonda started making wine in 1996 after they purchased the Merlot vineyard where she and Michael built their home. Together, their passion for wine and belief that winemaking begins in the vineyard led them to the Livermore Valley. They are tireless champions about the quality of Livermore Valley soils and their commitment to Livermore Valley grown grapes.
We have moved production from the home winery to our warehouse at 2407 Research Drive and opened a tasting room with regular tasting hours for you to enjoy. Please email or call if you would like to visit us outside of our regular tasting room hours or if you would like a private tasting or tour. Room rentals and private parties can also be arranged, please call us for details. Tasting flights are $15 per person and are refunded with a bottle purchase. Tastings for groups of 8 or more are $15 per person and are non refundable but do enjoy a 10% discount on wine. Wines by the glass are also offered for sale.