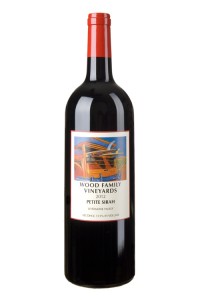 2014 Petite Sirah 
Livermore Valley
Our Petite Sirah is from the Casa de Vinas Vineyard owned by Julio and Marta Covarrubias and is located below our winery.  Petite Sirah has some of the thickest skins of all Vitis Vinifera grapes. This unique feature of PS grapes makes it possible to create a wine that is so dark purple it is almost black. But hand in hand with color anthocyanins go grape tannins, so waiting to pick the fruit until these tannins are sufficiently ripe is the key to creating a wine that is ready to drink when the fruit is at its brightest.

Opaque purple beckons you to search for mysteries contained in its depth. Floral blueberries and a glimmer of carnations are brightened by sweet black cherries. Earthy ferns hover overhead, as spicy black pepper bubbles up from below. The warm scent of vanilla oak wraps it all up in a neat bow. After you've been lulled by the aromas, flavors of bright berries burst in your mouth and big rustic tannins scream for a red-meat partner. Moderate acidity and well-integrated oak stand by as stalwart wingmen.
Harvested on 09/20/14.  3.80 pH, TA .63.  Aged in 28% New oak barrels, (75% American, 25% French) and 72% Neutral oak barrels.  100% Petite Sirah.
170 Cases Produced
$28 per bottle
$28/ bottle