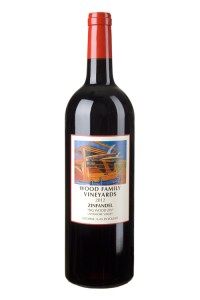 2016 "Big Wood" Zinfandel 
Livermore Valley
The grapes were harvested from three different Zinfandel vineyards in the Livermore Valley and blended with 3% Petite Sirah.  
A blend of 3 different Livermore Valley Zinfandel Vineyards consisting of 63% Deaver/Dupratt Clone from the Del Arroyo Vineyards, 29% Raboli/Napa Clone from the Ruby Hill Vineyards and 5% Mendocino Clone from Collier Canyon Vineyard blended with 3% Petite Sirah.  Aged in 100% American Oak barrels. 
Classic berry flavors from olallieberry, deep black flavors of ripe fig, and bright sweet flavors like strawberry jam lurk in this see-through purple wine. Exotic orchid notes and a hint of nutmeg provide highs and lows. The flavors are ripe berry and fig with a touch of oak. The wine is dry with silky tannins and not overpowered by its substantial alcohol. The finish harkens the earthy flavor of brazil nuts.
3.8 pH .60TA

Silver Medal * Alameda County Fair* International Women's Wine Competition*
508 Cases Produced
$34/bottle
  Cases Produced  $34/bottle