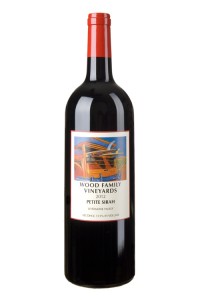 2013 Petite Sirah  SOLD OUT
Livermore Valley
Our Petite Sirah is from the Casa de Vinas Vineyard owned by Julio and Marta Covarrubias and is located below our winery. Petite Sirah has some of the thickest skins of all Vitis Vinifera grapes. This unique feature of PS grapes makes it possible to create a wine that is so dark purple it is almost black. But hand in hand with color anthocyanins go grape tannins, so waiting to pick the fruit until these tannins are sufficiently ripe is the key to creating a wine that is ready to drink when the fruit is at its brightest.
Each year this wine is consistently in sync with its grape. The darkest of purple, it looks just like the blackberry fruit that dominates the aroma. Sweet raspberry liquor and floral orchid notes gives the wine a beautiful perfume. And, the dark brown sugar hints at caramelization offered up by the toasted oak barrel. The first sip of this wine makes your mouth water, the bright acidity gives you the same sensation of biting into a fresh, juicy blackberry. What a fantastic food wine! The tannins are surprisingly moderate while still adding a welcoming rustic texture. The alcohol is balanced, and the finish is berry and new oak.
Harvested on 10/05/13
3.84 pH
Aged in mostly American Oak with 44% new and 56% neutral oak barrels. 100% Petite Sirah.
63 Cases Produced  $28 per bottle