Annual Events:
Fun Fridays – Every Friday


February – President's Weekend Barrel Tasting
March – Livermore Valley Barrel Tasting Weekend
April – Easter Sunday Closed
May – Spring Release Club Party
May – Spring Release 
July – Exclusive Club Party Release
August – Release Party
September – Annual Harvest Wine Celebration
November – "Extended Family" Club party
December – First Weekend in December:  Livermore Valley Holiday in the Vineyards

---
Additional events and detailed events below:
Fun Friday's – Tasting Room is open from Noon to 8pm with live music from 5 – 8pm.  June July & August Live Music 5 – 8pm; Live music on Fridays all year.
7/13/18 MC & The Hammers
7/20/18 Truth without Fear
7/27/18 Chaz & Ed
8/03/18 Michelle Lambert
8/10/18 Meredith McHenry
8/17/18 Frankie Bones Project
8/24/18 The Gitanos
8/31/18 Monkey Lizards


---



 Danube River Wine Cruise November 3 – November 10 2019 with Wood Family Vineyards. Early Bird Special discounts and sign ups have begun.   Watch for upcoming meetings or contact Wendy at email below with questions.  Vino Destinations will be here during the Release/Tasting room Anniversary Party on June 23rd/24th.

http://wcartwright.dreamvacationsgroups.com/WoodFamilyDanube
[divider]
---

July 14th & 15th — At our Home in the Vineyards – Exclusive Club Party – Saturday and Sunday this year and guests are invited.  Four amazing new wine releases paired with delectable food by Posada.  Live music: Tim Gomes on Saturday.  TBA on Sunday. Please see email for invite.
---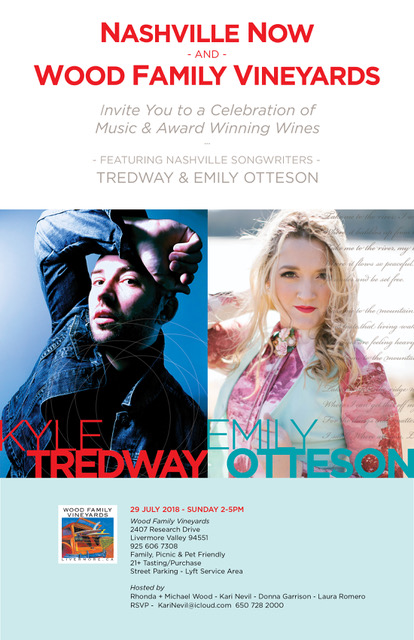 July 29, Sunday – 2pm – 5pm
Pleasanton, CA. – Kyle Tredway is a multi-instrumentalist and singer/songwriter who got his invitation to Nashville after partnering with Peninsula executive producer Kari Nevil and her long time industry partner and mentor, Gordon Perry (Fleetwood Mac, Grateful Dead, Heart, Whitesnake). Nevil, Tredway, co-producer Collin Pastore and mixer Kyle Dreaden have recorded a debut EP entitled TREDWAY, scheduled for release in August with sneak debut at  Wood Family Vineyards.
Making her west coast debut along side Tredway is Portland-raised, Nashville-based singer/songwriter 
Emily Otteson. Emily's songwriting and vocal style is reminiscent of Judy Collins and Tammy Wynette. Beautifully soothing and Pacific Southwest-sassy at the same time. Emily is recording her first single with Gray Matter Studio's Charlie Lowell and Matthew Odmark in Nashville this Fall
.
---

August 4th & 5th – Saturday and Sunday, Noon – 4:30pm – Annual Summer Wine Release Party open for everyone.  Stay Cool at The Warehouse.  Wine paired with gourmet cheeses.  Live music by "The Mundaze" on Saturday and "Luna Fish" on Sunday! $15 and keep your logo crystal wine glass.  Complimentary to club members who choose to leave their glass. Tasting room open till 7pm on Saturday and 6pm on Sunday.
---
September 2nd & 3rd = Sunday and Monday – Harvest Wine Celebration and Labor Day Festival – Noon – 4:30pm.  Tasting room open till 6pm on Sunday and 5pm on Monday. Stay cool At the Warehouse.  Live music "Big Sticky Mess" on Saturday and "The Mundaze" on Monday!  Stay tuned for more information.
It's all Good at Wood!